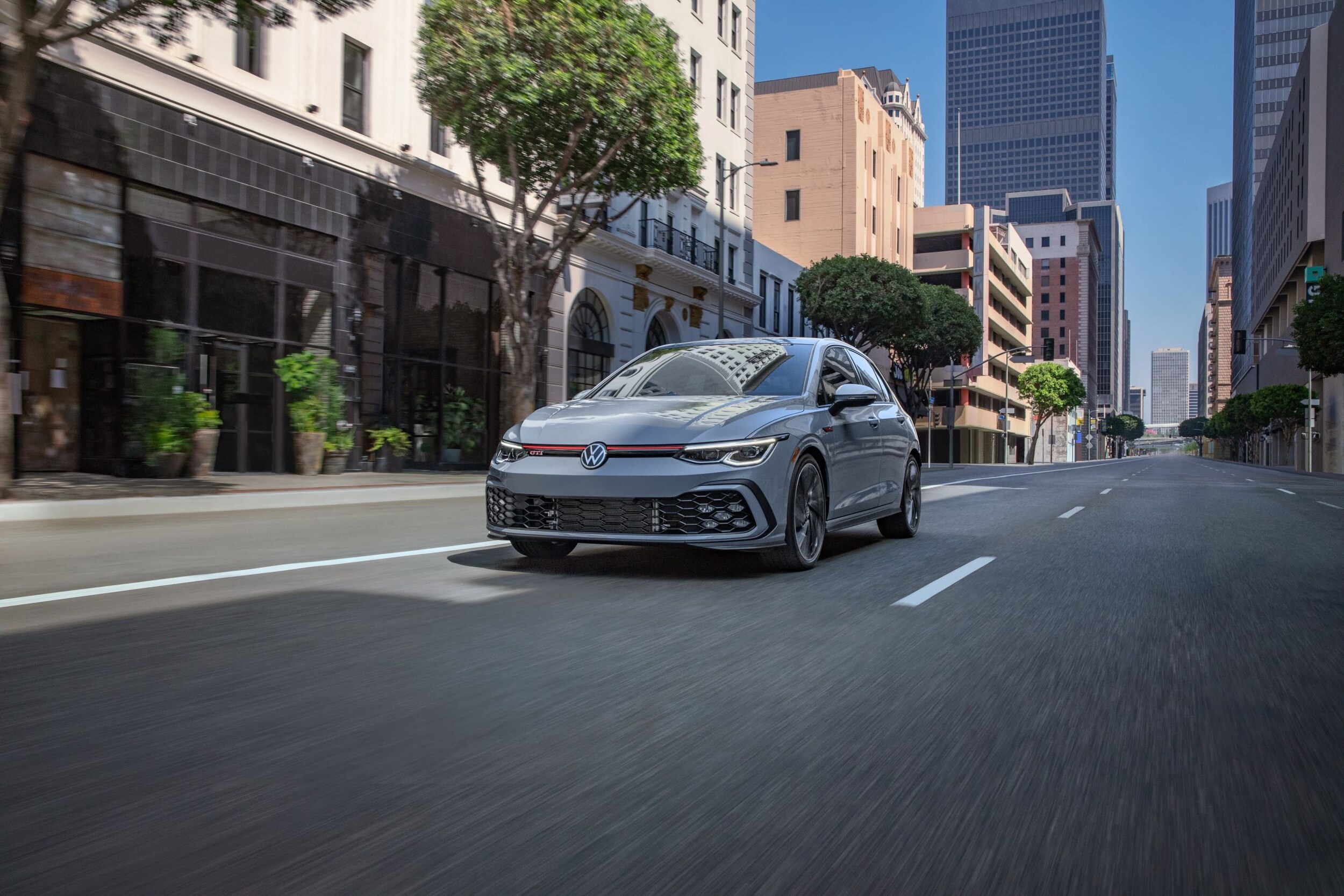 Performance, Practicality & Fun: the 2023 VW Golf GTI
The 2023 Volkswagen Golf GTI continues its tradition as the original "hot hatch", a small, light hatchback vehicle that offered plenty of fun with its peppy engines, manual gearbox and amazing handling. The new GTI takes its storied tradition to the next level with a turbocharged 4-cylinder engine, 6-speed manual transmission and improved suspension for even better handling.
With 4-doors, a spacious interior cabin and cargo area due to the hatchback design, the VW Golf GTI delivers all the fun and practicality you have come to expect from this "hot hatch."
Sit Back, Relax and Enjoy the Ride
The GTI features an interior cabin that was designed with the driver in mind for maximum comfort and fun. Equipped with a customizable 10.3-inch gauge cluster with Volkswagen Digital Cockpit Pro and 10-inch touchscreen, you can easily access your music, navigation and other features with your fingertips. 
With high-quality materials throughout and plenty of room for passengers and cargo, the Golf GTI is a perfect vehicle for running errands around town as well as hitting curvy backroads for a more exhilarating driving experience.
Invite in Fresh Air and Natural Light With Available Panoramic Sunroof
With an available panoramic sunroof, you can make your weekend driving adventures more exciting with a flood of fresh air and natural light into the interior cabin for a more engaging experience behind the wheel. Take in the sights, sounds and feel fresh air blowing through your hair while you make your way through bendy turns.
Good Things Come in Small Packages
While the Golf GTI is a compact hatchback, it's legendary for being big on fun. A turbocharged 2.0-liter 4-cylinder engine mated to a standard 6-speed manual transmission (or an available automatic) delivers 241 horsepower and 273 lb.-ft. of torque, going 0-60 in just 5.1 seconds.
What the GTI is most famous for though is its razor-sharp handling. Causing most drivers to smile from ear-to-ear when going through turns and bends, this is where the Golf GTI is most at home. With an electronically controlled limited-slip differential and brake-based torque vectoring, this hot hatch is made to be driven.
Get Ready to Drive the 2023 Volkswagen Golf GTI
Interested in getting your hands on a new VW Golf GTI? Then place a
custom order
with East Coast Volkswagen of Myrtle Beach and get your GTI with the exact colors, features, options you want. If you're looking for a compact car that is practical, stylish, and a ton of fun, the 2023 Golf GTI is hard to beat. 
Ask Us a Question
* Indicates a required field