Looking for an Oil Change in the Myrtle Beach Area for your Volkswagen?
East Coast Volkswagen is an award winning South Carolina Volkswagen Dealership and Service Center located right in Myrtle Beach, SC. We have factory trained technicians and a modern service facility to perform all your Volkswagen service related needs.
Schedule your next Oil Change
today and don't forget to check out our money saving
special offers
!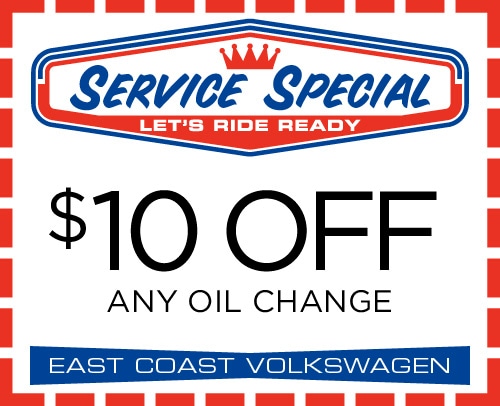 When Should I Change My Oil In My Volkswagen?
Your Volkswagen is a highly advanced machine. With genuine Volkswagen Parts, Oil, and Filters, your newer model car can go up to 10,000 miles in-between oil changes. This will vary depending on your driving habits and the type of engine you have in your vehicle. With the advancement in Synthetic Oil technology, your Volkswagen can run longer and more efficiently in-between oil changes. 
What Are The Benefits Of Getting My Oil Changed At The Dealership? 
There are many benefits to getting your Volkswagen serviced at East Coast versus going to a non Volkswagen Certified repair facility. 
Longer times between oil changes: By using OEM parts and synthetic oils that exceed the manufacturer requirement, your Volkswagen can go up to 10,000 miles between oil changes compared to the 3,000 or 5,000 miles other shops will recommend. This saves you both time and money in the long run.
Factory Trained Technicians: By having a service technician who is Volkswagen Certified to perform all types of services on your car, you can be assured that your car is being taken care of by a professional who will do the job right the first time.
Maintain Your Warranty: A lot of non Volkswagen Certified repair facilities use many different types of oils. If these oils do not meet the Volkswagen standards as required for proper maintenance, you could void your manufacturer warranty without even knowing. 
Volkswagen Service Hours
Monday

7:30 AM - 6:00 PM

Tuesday

7:30 AM - 6:00 PM

Wednesday

7:30 AM - 6:00 PM

Thursday

7:30 AM - 6:00 PM

Friday

7:30 AM - 6:00 PM

Saturday

8:00 AM - 5:00 PM

Sunday

Closed
Schedule Your Oil Change Today